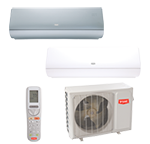 Duct free heating and cooling systems make your home's individual rooms or other small spaces more comfortable. Remember, just like whole-home systems, the higher the SEER and HSPF ratings, the more efficient they will be.
We offer a variety of through-the-wall packaged terminal air conditioners (PTAC) and duct free heating and cooling systems to meet any individual room's needs.
The Unico System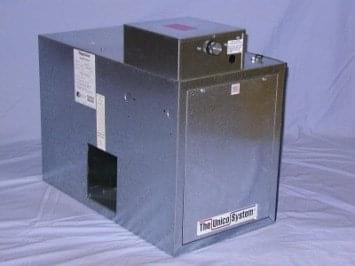 Whatever your home's style, The UNICO System is the perfect fit. A superior central heating and cooling system with its innovative "aspiration" technology, warms and cools your house evenly and quietly. Our revolutionary flexible small ducts weave through the smallest spaces - ceilings, walls, and even floors - so there is no need for costly, messy renovation.
The Unico System is the dominant choice for centrally heating and air conditioning homes with no pre-existing ductwork. In addition, Unico is fast becoming the number one choice of specifying professionals in custom home applications. Once a HVAC contractor understands The Unico System Rules Of Installation, applications are only limited by your imagination.
Ductless High Wall Indoor Heat Pumps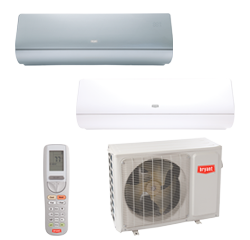 Evolution® High Wall Indoor Unit
View Brochure
Model Family: 619F*B
Purpose: Heating and cooling
Zone Capability: Single-zone/ Multi zone
Efficiency SEER: Up to 30.5 SEER
Efficiency EER: Up to 15.8 EER
Efficiency HSPF: Up to 10.3 HSPF
Matching Outdoor Unit: Single-Zone: 538*FR
Matching Outdoor Unit: Multi-Zone: 538*KR
Energy Star Rated: ENERGY STAR®
Refrigerant Type: Puron®
Number of Fan Speeds: 7 fan speeds
Sound Level: As low as 22 dB
Wireless Remote: Yes
Factory Warranty Parts: 10-year parts limited warranty upon registration
Manufacturer's Stated Benefits:
Capacity sizes ranging from 9 to 18 BTUs
Heating capacity is 80% when temperatures fall as low as -22?F
Piping lengths up to 82 ft.
Base pan heater
Automatic louver mode
Air supply extends vertically 180?
Heating setback allows for 46?F heating mode
X-Fan mode
Smartphone control
Automatic after power outage
Advanced system diagnostics
Flat panel white or gray indoor unit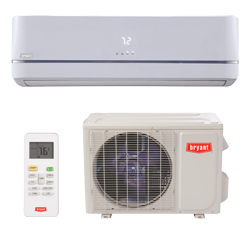 Preferred™ High Wall Indoor Unit
View Brochure
Model Family: 619P*B
Purpose: Heating and Cooling
Zone Capability: Single-zone
Efficiency SEER: Up to 25 SEER
Efficiency EER: Up to 14.5 EER
Efficiency HSPF: Up to 12 HSPF
Matching Outdoor Unit: Single-Zone: 38*MAR
Matching Outdoor Unit: Multi-Zone: 38*MGR
Energy Star Rated: ENERGY STAR®
Refrigerant Type: Puron®
Number of Fan Speeds: 4 fan speeds
Sound Level: As low as 27 dB
Wireless Remote: Yes
Factory Warranty Parts: 10-year parts limited warranty upon registration
Manufacturer's Stated Benefits:
Capacity sizes ranging from 9 to 30 BTUs
Line lengths 82-164 ft. depending on unit capacity
Base pan heater
Auto louver mode
46?F heating mode (heating setback)
Turbo mode
Sleep mode
White flat panel indoor unit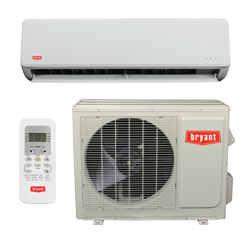 Legacy Line™ High Wall Indoor Unit
View Brochure
Model Family: DH*QMA
Purpose: Heating and Cooling
Zone Capability: Single-zone
Efficiency SEER: Up to 15 SEER
Efficiency EER: Up to 10.5 EER
Efficiency HSPF: Up to 8.2 HSPF
Matching Outdoor Unit: Single-Zone: DAQMA*
Matching Outdoor Unit: Multi-Zone: N/A
Energy Star Rated: ENERGY STAR®
Refrigerant Type: Puron®
Number of Fan Speeds: 4 fan speeds
Sound Level: As low as 40 dB
Wireless Remote: Yes
Factory Warranty Parts: 10-year parts limited warranty upon registration
Manufacturer's Stated Benefits:
Capacity sizes ranging from 9 to 22 BTUs
Piping lengths 65-98 ft. depending on unit capacity
Motorized louver allows fixed or oscillating motion
Auto restart after power failure
Sleep mode
Washable filters
System diagnostics
One-Touch Memory
White flat panel indoor unit
Ductless High Wall Indoor Air Conditioners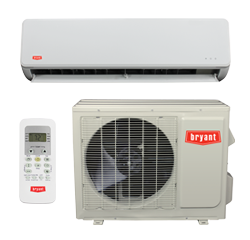 Legacy Line™ High Wall Indoor Unit
View Brochure
Model Family: DH*CMA
Purpose: Cooling
Zone Capability: Single-zone
Efficiency SEER: 15 SEER
Efficiency EER: Up to 10.5 EER
Matching Outdoor Unit: Single-Zone: DACMA*
Matching Outdoor Unit: Multi-Zone: N/A
Energy Star Rated: ENERGY STAR®
Refrigerant Type: Puron®
Number of Fan Speeds: 4 fan speeds
Sound Level: As low as 40 dB
Wireless Remote: Yes
Factory Warranty Parts: 10-year parts limited upon registration
Manufacturer's Stated Benefits:
Capacity sizes ranging from 9 to 22 BTUs
Piping lengths 65-98 ft. depending on unit capacity
Motorized louver allows fixed or oscillating motion
Auto restart after power failure
Sleep mode
Follow me
Washable filters
System diagnostics
One-Touch Memory
Bryant Alternate Indoor Ductless Units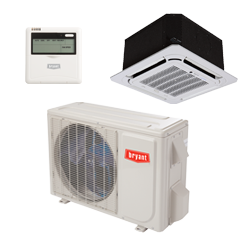 Preferred™ Cassette Indoor Unit
View Brochure
Model Family: 619R*C
Purpose: Heating and cooling
Zone Capability: Single-zone/ Multi xone
Efficiency SEER: Up to 20.5 SEER
Efficiency EER: Up to 13 EER
Efficiency HSPF: Up to 10 HSPF
Matching Outdoor Unit: Single-Zone: 38*MAR
Matching Outdoor Unit: Multi-Zone: 38*MGR
Energy Star Rated: ENERGY STAR®
Refrigerant Type: Puron®
Number of Fan Speeds: 3 fan speeds
Sound Level: As low as 34 dB
Wireless Remote: Yes
Factory Warranty Parts: 10-year parts limited warranty upon registration
Manufacturer's Stated Benefits:
Capacity sizes ranging from 9 to 18 BTUs
Line lengths 82-98 ft. depending on unit capacity
Base pan heater
Built-in condensate pump
Motorized louver allows fixed or oscillating motion
Auto restart after power failure
46?F heating mode (heating setback)
System diagnostics
Advanced system diagnostics
White flush mounted indoor unit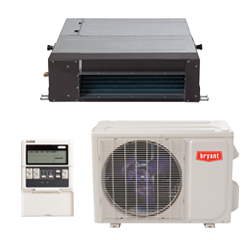 Preferred™ Ducted Indoor Unit
View Brochure
Model Family: 619R*D
Purpose: Heating and Cooling
Zone Capability: Single-zone, Multi-zone
Efficiency SEER: Up to 19 SEER
Efficiency EER: Up to 13.5 EER
Efficiency HSPF: Up to 10.5 HSPF
Matching Outdoor Unit: Single-Zone: 38*MAR
Matching Outdoor Unit: Multi-Zone: 38*MGR
Energy Star Rated: ENERGY STAR®
Refrigerant Type: Puron®
Number of Fan Speeds: 3 fan speeds
Sound Level: As low as 30 dB
Wireless Remote: Yes
Factory Warranty Parts: 10-year parts limited warranty upon registration
Manufacturer's Stated Benefits:
Capacity sizes ranging from 9 to 24 BTUs
Piping lengths 82-98 ft. depending on unit capacity
Base pan heater
Built-in condensate pump
46?F heating mode (heating setback)
Built-in condensate pump
One touch memory
Automatic after power outage
Advanced system diagnostics
White flat panel indoor unit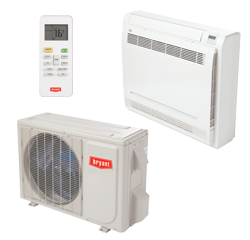 Preferred™ Floor Console Indoor Unit
View Brochure
Model Family: 619R*F
Purpose: Heating and cooling
Zone Capability: Single-zone/ Multi zone
Efficiency SEER: Up to 20.5 SEER
Efficiency EER: Up to 12.5 EER
Efficiency HSPF: Up to 10 HSPF
Matching Outdoor Unit: Single-Zone: 38*MAR
Matching Outdoor Unit: Multi-Zone: 38*MGR
Energy Star Rated: ENERGY STAR®
Refrigerant Type: Puron®
Number of Fan Speeds: 3 fan speeds
Sound Level: As low as 34 dB
Wireless Remote: Yes
Factory Warranty Parts: 10-year parts limited warranty upon registration
Manufacturer's Stated Benefits:
Capacity sizes ranging from 9 to 12 BTUs
Piping length 82 ft.
Base pan heater
Motorized louver allows fixed or oscillating motion
Auto restart after power failure
46?F heating mode (heating setback)
Automatic after power outage
Advanced system diagnostics
White flush mount indoor unit